Hello... it's Trish again from
http://trishhunterfinds.blogspot.com/
I'm hoping someone with a great deal of antique knowledge will read this, as I'm after some information.
I've been sitting here reading one of my Carters guides and it got me all motivated to try and find out prices of some of my things on ebay. I was disappointed to find out that there were so many of my 'wade' lady and the tramp figurines up for sale. I could have sworn I saw them in a Carter's or Millers book for a reasonable price.
Thus this blog.
Its impossible to make a price estimate on some things because there are so many, "but only if..."'s about them all.
EG: It will be worth more if it's got birds on it, but only red birds, and only if the birds are in an interesting pose, and only if the date they came out was right before the fire that burned down the factory, and only if they were in batch 34324 where it was a special gift for the queen and only 400 were made.
Ughh you get my gist. It seems that makers names and age are irrelevant when it comes to pricing things. You could get an item from the 1800's that is worth less than something from the 70's. Its hard.
ANYWAY.
So I'd like to post a few of my pieces of jewelery that I'd like to know a bit more about. I'd never ever sell them but I love to know about history etc.
The first item is my all time favorite thing I own. I think its beautiful.
When my great Aunt Mary died when I was fairly little, there was a junk box that the kids got to choose an item from. And I picked this up. My mum took it off me in jealousy and has had it for years. She reluctantly gave it back about a year ago and told me that 'England' means it's over 100 years old? because anytime after that stamping turned to 'Made in England' Is this true? Would love to know more. Here are a few pictures. The dress is made of butterfly wing.
Get ready for my fabulous photography! Haha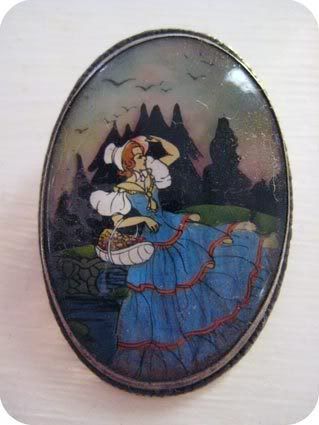 My guess on the next brooch is it's art art nouveau? I could be so wrong. I also don't see any markings to let me know anything.
But yep, I love her.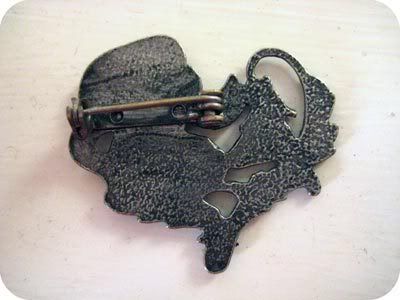 And last but not least is this wind up watch that my Mum picked up at Bentleigh Market for $5. I am now the proud new owner after a lifetime of nagging.
A lot of the stones in the watch are different which I can't pick if they're replacements or if they were put in for a meaning.
The back of the watch is engraved with V.M Scott 17.6.40
It still works well, I use it every now and then but it's hard to remember to wind keep winding it up so I get caught out a lot.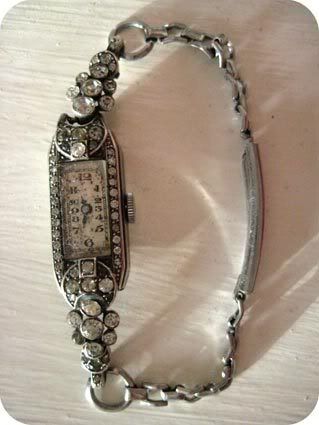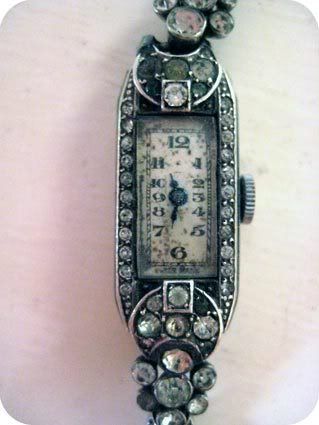 And that's all for now.
Hope somebody has some insight. There will be no classic road show disappointments if they're worthless, because I love them all the same :)
Don't forget to check out my other blogs at
http://trishhunterfinds.blogspot.com/
Thankssss