I managed to score a number of goodies on my trip to Mornington today. The vintage stores there can be a bit of a hit or miss so I didn't end up getting as many items as I had hoped for, after such a long expedition. However, there were a number of stand out items...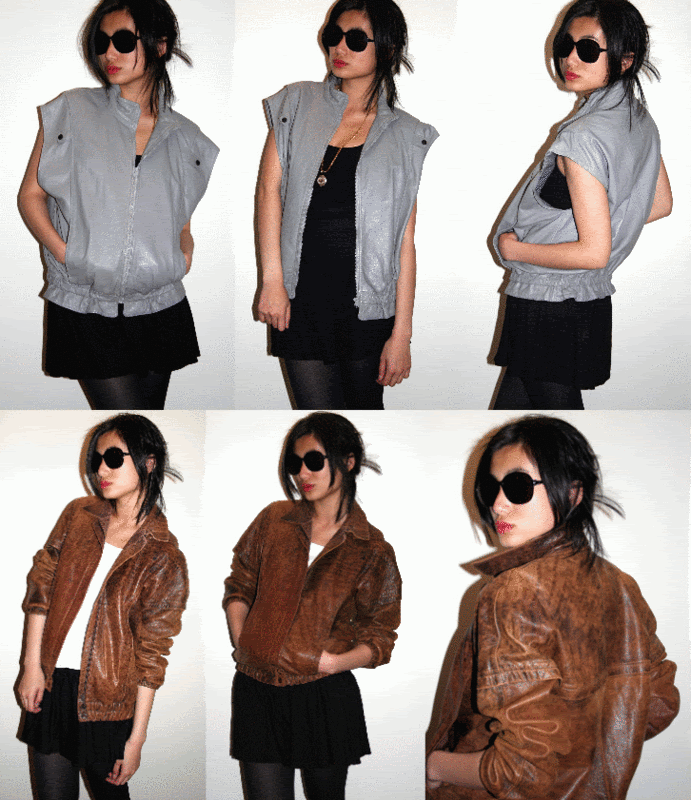 I love leather jackets, they're so warm and have that comforting, peppery smell about them. I've toyed with the idea of getting one for ages and ages, however the insane prices of them in shops constantly put me off. As such, I am always on the lookout for them whenever I'm on a thrifting expedition, and up until today it's all been dismal and slim pickings. The nice ones get snapped up quickly and it's always the daggy, goth-type leather goods that get left behind.
Well, imagine my delight when I strolled into a small "mom and pop" thrift store in Frankston to see three hanging on a rack, being ignored by the other shoppers. It was almost like a mirage - I pratically ran accross the room so I could nab them before they disappeared. There were three all together, a black jacket and the two above. All of them were GORGEOUS, with the softest leather and in MINT condition.
I was very much tempted to keep them all but that's a bit greedy and I'm more of a "safe" dresser so I don't see how often I'd wear the grey one.
I think these vintage finds definately have topped the list. What about you - what are some of your best thrift finds?
For more vintage shopping bargains check out my blog:
foevayoungvintage