Hihi! My names Trish and this is my first post.
My personal blog is www.trishhunterfinds.blogspot.com
Feel free to check it out if you get a chance.
This weekend, I have gone back up to my home town to do some website work with my Dad.
Although I'm not a fan of coming back here, there are three things that excite me.
1) Country Opshops. Is there anywhere better to source out some real bargains? Everything is so cheap, most are run by lovely old ladies who you always remind of someone, and get to hear their stories. You're guaranteed to pick up something special for the coins that sit at the bottom of your bag.
I love my local opshop. I remember in early highschool when I was in my 'How can I make money' stage (before I was old enough to work), going to the opshop and buying two garbage bags of books which Mr Shrudder charged me a poor $2 for. And I lugged them up, one bag at a time to the second hand bookshop at the other end of town and sold the lot for $54. I thought I was brilliant.
Anyway, I went back today but didn't buy too much, but two of the things I bought were items I had been searching for at least... 6 months for. And when you wait for something, the thrill is multiplied by 332094823 when you finally find it.
So here is what I bought.
An average green dress, but its in a small size, and the green is so bright!
I hate wire coathangers with a passion. They make all clothes look horrible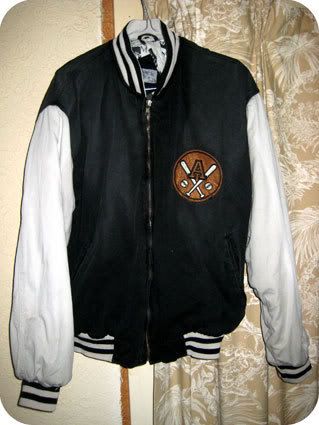 This is one of the items I've been looking for for a while. A baseball bomber jacket similar to what all the kids in 90's movies would wear. All I ever find is kids ones in tiny sizes, so was super excited to find this one.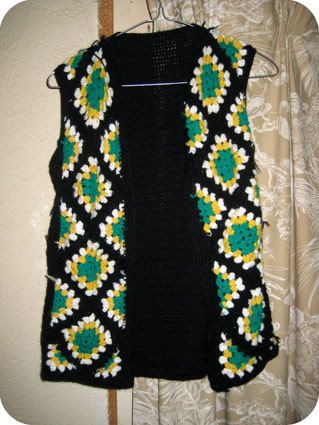 And this is my favorite. My friend Ash picked one up at an opshop about 6 months ago and I've been bleeding with jealousy ever since. This was stuffed at the bottom of the secret dress up box that I swear only I know about. It's in the change room underneith the bench chair and I always find something in there.
2 The second greatest thing about coming back home is the home cooked meals. Tonight was chicken and mushroom risotto. Mmmmm
3 The third and most important is seeing my precious dog Lucy. I love her to pieces.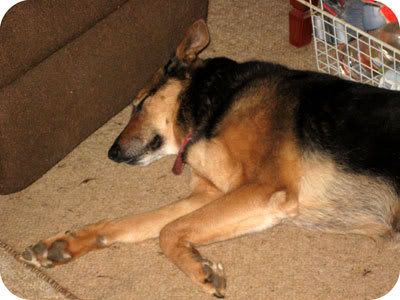 Isn't she beautiful?