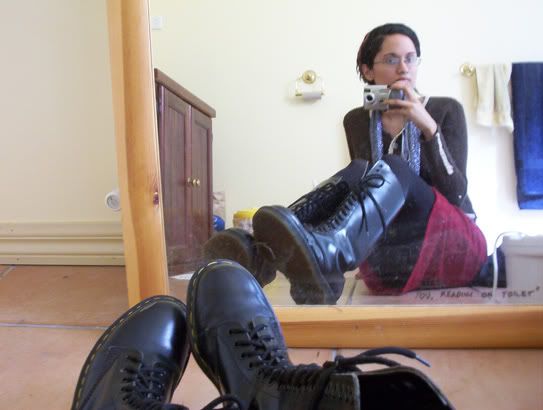 My op shopping motto: a thrifted item that doesn't suit you is still an item that doesn't suit you.
Since I made the decision to return to the wonderful world of op shopping, I've been asking myself questions about my past op shopping practices. Why did I op shop, what kinds of things did I go for, and how should I update my attitude towards op shopping to suit the person I am now?
I used to be a compulsive op shopper. During most uni breaks I would trundle off to Savers, comb through the masses of musty-smelling junk, to find the gems. Most days I would come back with over 20 gems; you see, at that time, my idea of a 'gem' was completely insane.
A gem was anything that I could fit into that didn't look terrible (but it didn't need to look terribly good, either); anything that looked interesting, even if I could only just fit into it; anything to which I attached the words "It's so hideous I just have to have it"; anything costumey; anything below $10, and anything I liked regardless of whether it was stained, ripped, had a broken zip, or otherwise needed mending (of course I didn't mend any of these garments as I'm almost useless with a sewing needle). I bought and wore little boys' t-shirts, children's jumpers, hideous dresses, tops that didn't really fit, and things that
did not suit my shape at all
.
Click to read the rest of this post (link opens in a new window)