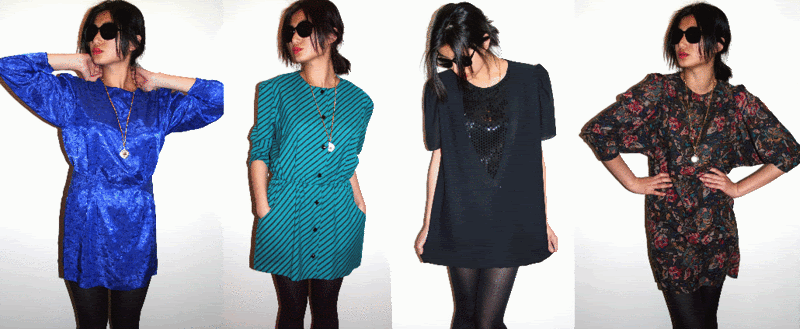 These are my top picks out of the dresses I found over the course of the week. I really like the striped green dress which I first wrote about
here
. As you can see, it was actually quite long before so I cut off some of the skirt and have hemmed it so that it now has a more contemporary feel. I think the floral dress is really cute too, it's in a fitted smock style but it has really great semi-batwing sleeves.
My
favourite
item out of these is the black minidress. The "V" section you see is actually made up of tiny sequins so it's very shimmery and definitely turns this otherwise ordinary black dress into something special.
Now, onto my find of the week:
If you've read my post
here
then you'd know how much I love leather jackets and am always on the lookout for them. You'd also know that typically I don't have any luck with finding anything that is actually wearable - I think leather jackets are pretty big in demand at the moment so lots of grabby hands tend get to them before I can. I was pretty lucky with the last two so I was very excited and could hardly believe my luck when I found this one. It's really the
softest
leather I've ever felt - kind of like a suede/leather, if that makes sense. I think it's actually a boy's jacket... I found it in the women's section but the zipper is on the other side.
For more pictures head to my blog:
forevayoungvintage