... and more dresses! I'm on a roll - the gods have been kind to me this week.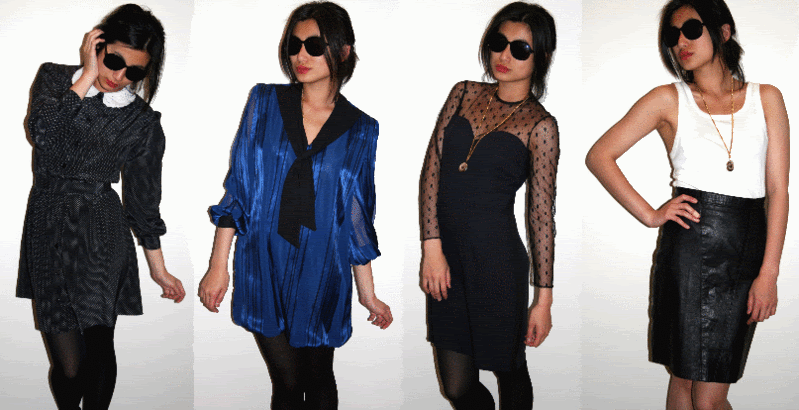 The first dress is very Wednesday Adams, don't you think? When I saw the dress in the shop I was immediately drawn to it; I love the dolly peter-pan collar as well as the monochromatic colour scheme. It's not really my "style", but sometimes a good thing is just too hard to pass up!
I found two identical leather skirts on Thursday, one of which will be going into my private collection. Both of the skirts are the perfect snug fit and have a great high waist - whoo! I'm very excited because I'd been hunting for a black, leather mini a few weeks ago with no luck and had pushed the search to the back of my mind. It's pretty hard to find one that's fitted and not too daggy - I've resorted to ebay a few times but thankfully I held out until now!
Okay, last two items. Again, the red polka-dot dress isn't really my style but I think it's adorable! I actually spent a lot of time altering this dress - it's original form was about two times as big and the skirt came down past my knees. I had to remove the skirt, take up the top and the sleeves then reattach the whole ensemble back together again. Thankfully the mothership was on hand and gave me some pointers but it's still quite a feat for a lady still learning to use the sewing machine!
The last dress is my favourite out of the lot. It's a little too flashy for me personally (I would have nowhere to wear such a garment) but aside from that it's pretty unbelievable.
A quick question though - are you a traditionalist when it comes to vintage clothing? Do you think it's wrong to alter vintage clothes to make them more "modern"? I'm been thinking about this recently and would love some opinions!
As usual, better photos are at my blog:
forevayoungvintage